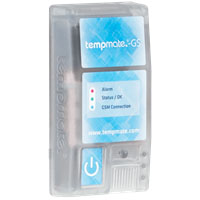 tempmate.®-GS offers real-time monitoring which is up-to-date with latest developments. The cutting-edge technology combined and approved quality of German engineering form the basis of this innovative and reliable device. We call it "Cold Chain Monitoring 4.0". With tempmate.®-GS you are able to take actions in time and save your goods before it is too late. All relevant measurement data can be continuously recorded by using our tempmate.®- Cloud.
tempmate also made tracking data more efficient for multiple team members by allowing it to be checked, managed, and analyzed online. This global connectivity lets your online team monitor information continuously, allowing them to then react to a problem before it occurs, while it's in transit, or after it's been delivered.
Recorded data can be easily shared with others via a link or an email. No additional software is required, just a web browser with Internet access. Your data is securely protected against access from third parties. Our databases are stored in multiply secured server centres in the EU. Data protection and data integrity regulations are obeyed offering maximum security. Last but not least you remain in complete control of costs as there are no additional "hidden" charges.
Measures temperature, relative humidity, light and 3-axis accelerometer. Supplied with GSM connectivity.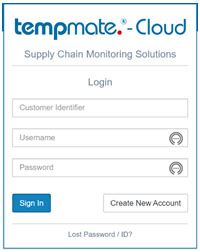 Real-time smart monitoring of location & condition of all your shipments world-wide using the tempmate.®-GS

Real-time GSM location, temperature, humidity, light and shock tracking for today's smart logistics. tempmate.® cloud-based network offers both professional and individual support via high-availability AWS cloud technologies. And with unlimited data storage and retention times, you'll be able to plan ahead and adjust faster than ever. tempmate.®-cloud lets you access, share, change, and manipulate data or actions faster and more efficiently. It even allows you to reach team members or clients anywhere in the world to maintain strong business relationships.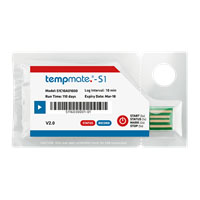 Single use TEMPERATURE LOGGER EN12830 compliant
Economic single-use GDP conform temperature logger with automated PDF & CSV reports for smart logistics.
tempmate.®-S1 temperature loggers were especially developed for monitoring temperature-sensitive products throughout the entire cold chain. They incorporate customer-specific settings directly ex-works so that each temperature logger is good to go out of the box. Digital sensors measure the temperature with high accuracy, together with long battery life and intuitive LED indication of the status makes our tempmate.®-S1 a worldwide standard in logistics and storage.
Labeling per IATA´s dangerous goods regulations is not required for your tempmate.®-S1. Simply activate the temperature logger, drop it in the box and check the status via intuitive LEDs whilst handling the shipment during shipment or once the final destination has been reached. The automatically generated report indicates exactly if and when your set threshold has been breached.
Download Datasheet tempmate.®-S1 V2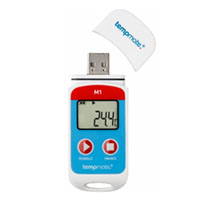 Economic multi-use GDP compliant temperature data logger with automated PDF analysis for smart logistics. tempmate.®-M1 multi-use temperature loggers were especially developed for monitoring temperature-sensitive products throughout the entire cold chain. Customer-specific settings are installed directly ex-works so that each temperature logger is good to go out of the box. tempmate.®-M1 is especially small and light so that it can fit into virtually any package.
Our multi-use temperature logger tempmate.®-M1 with integrated USB port is the ultimate data logger for economical temperature monitoring of your stationary refrigerators and transported goods. For carrying out the analysis, simply connect tempmate.®-M1 directly to the USB port of your PC. A PDF report is then automatically generated,  showing the temperature profile as well as all individual values plus statistical information. No additional hardware or software is required. External sensor option.
Single-use TEMPERATURE INDICATOR EN12830 compliant
The worldwide standard single-use GDP compliant temperature indicator for smart logistics. tempmate.®-i1 temperature indicators have been specially developed for monitoring pharmaceutical products' cold chain. As a pre-programmed device, the tempmate.®-i1 can be immediately deployed for monitoring temperature-sensitive goods and freight. In contrast to chemical indicators, this electronic indicator's 3 LEDs provide simple and clear feedback on the current condition of your goods. The single-use temperature indicator tempmate.®-i1 is a worldwide standard when it comes to simply understanding if your fragile goods have been transported and stored within the set temperature parameters or not. A LED indicates the status with minimal possibility for human error. This combined with the ultra light weight, compact design and economical pricing makes tempmate.®-i1 a first choice in transportation and logistics.