Butler Techsense designs and supplies a range of temperature probes to suit most applications, from low temperature to very high temperatures. Contact us with your specific requirement. If we don't have it, we can either make it or source it. We supply most thermocouple types, RTD's and thermistor sensors, exposed air sensors and stainless steel probes.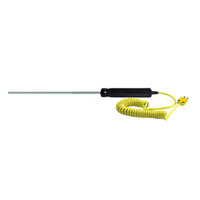 We offer a wide range of hand held thermocouple sensors for a variety of applications. All sensors are supplied with a 1 metre coiled lead when extended and a fixed miniature flat pin plug which makes them suitable for all our hand held instruments. They can of course be connected to other instrumentation such as temperature controllers by using thermocouple extension cable and the appropriate connectors which can also found in this catalogue. Our general purpose style is offered with a semi flexible mineral insulated sheath in either 2mm to 6mm diameter in lengths of 100mm to 500mm. The stem is rated to 800°C and the handle to 105°C.
Immersion probe, Thin Film Pt100 sensor probe. Stem Ø 3 mm, length 230mm. 4 wires connection cable with connector, 2 meters long.
Delta OHM offers a wide choice of Platinum resistance thermometers with resistance equal to 100 Ω at 0 °C and temperature coefficient α as defined by the IEC 60751 standard: Pt100, R0=100 Ω, α= 3.851∙10-3 °C-1. For particular applications, probes with Pt1000 sensor or with a thermistor sensor are available. The response time τ0.63 indicated for each probe is the response time of the sensor to a temperature variation, with a variation of the measured signal corresponding to the 63% of the total variation.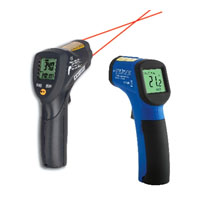 For contact-free measuring of surface temperature using laser sighting
Measuring range -50°C…+800°C with adjustable emission Ratio
Ratio of measuring distance/spot size 20:1
Highest precision due to special glass lens
With double-laser sighting (shows the exact spot size area)
Measuring time: < 0,5 seconds
Display of current, highest temperature or upper/lower limits
HOLD/LOCK function
Visual and audible alarm with freely adjustable temperature values